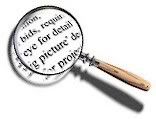 Unlike coin or stamp collecting, there is no officially recognized authority to provide standards for collectible magazines and magazine advertisements. I grade my clipped advertising using a derivation of the Overstreet Standard, the widely accepted standard for grading of collectible comic books. These standards can be reviewed in depth by referring to the Official Overstreet Comic Book Grading Guide, 2nd edition, released in 2002.
My clipped advertisments are graded in one of five general categories based on the 25 more detailed Overstreet grades: Mint, Near Mint, Fine or Excellent, Good and Fair. Here's a brief summary of these grades.
MINT:
Near perfect in every way. A grade of mint means that the magazine appears to have never been touched by human hands and shows no signs of aging. Since clipped ads, by definition, alter the original product, I reserve this grade for complete magazines only.
NEAR MINT:
Nearly perfect with only minor imperfections. Near mint describes ads that appear to be in the original pristine condition. However, on closer examination signs of aging and human handling become evident.
FINE OR EXCELLENT:
An above-average copy that shows only minor wear. Fine describes ads that have obviously been handled in the past and may have some noticeable signs of aging, but are free of major defects.
GOOD:
Shows obvious signs of wear and tear but is generally quite suitable for framing and display.
FAIR:
Shows heavy wear. Fair condition or worse describes ads that are usually of no interest to collectors, but may have sentimental or artistic value to the owner and are generally still suitable for display.
For a detailed description of my grading standards, please visit my Condition and Grading web page!